Sumter's 2022 Veterans Day Event Will Highlight USARCENT General
SUMTER, SC (October 28, 2022) - The Sumter County Veteran's Association invites the community to the annual Sumter Veterans Day event on Friday, November 11, 2022 in Downtown Sumter.
The day begins with a parade at 10 a.m., followed by an official ceremony at 11 a.m. on the front lawn of the historic Sumter County Courthouse, located at 141 North Main Street.
The parade will be held on Main Street, beginning at the intersection of West Bartlette Street and proceeding north to Calhoun Street, then east on Calhoun and south on Harvin Street, ending behind the Sumter County Courthouse.
This year's ceremony includes:
Posting of the Colors by the Crestwood High School Air Force Jr. ROTC.
Performance by Shaw Air Force Base Staff Sergeant Jeannie Toro.
A 21-gun salute and Taps performance by Shaw Air Force Base Honor Guard.
A tribute to POW/MIAs.
A special service recognition of 30 local Veterans.
A keynote address by the Commanding General, U.S. Army Central (USARCENT), Lieutenant General Patrick D. Frank ("Lucky 6").
"The occasion honors local veterans and celebrates those in our community who have worn a U.S. military uniform," stated Valerie Brunson, Sumter County Veterans Affairs Director. "More than 100 organizations, including active US Armed Forces members, are scheduled to participate in the festivities."
Following the ceremony is a Meet and Greet, taking place on the rear Courthouse lawn, followed by tours of the Sumter Military Museum (129 North Harvin Street) from 1 to 4 p.m. The public is invited and all activities are free.
For more information on Sumter's Veteran's Day observances, contact Shelley Kile, Communications and Tourism Director, at (803) 795-2463 or [email protected].
###
---
Lieutenant General Patrick D. Frank "Lucky 6"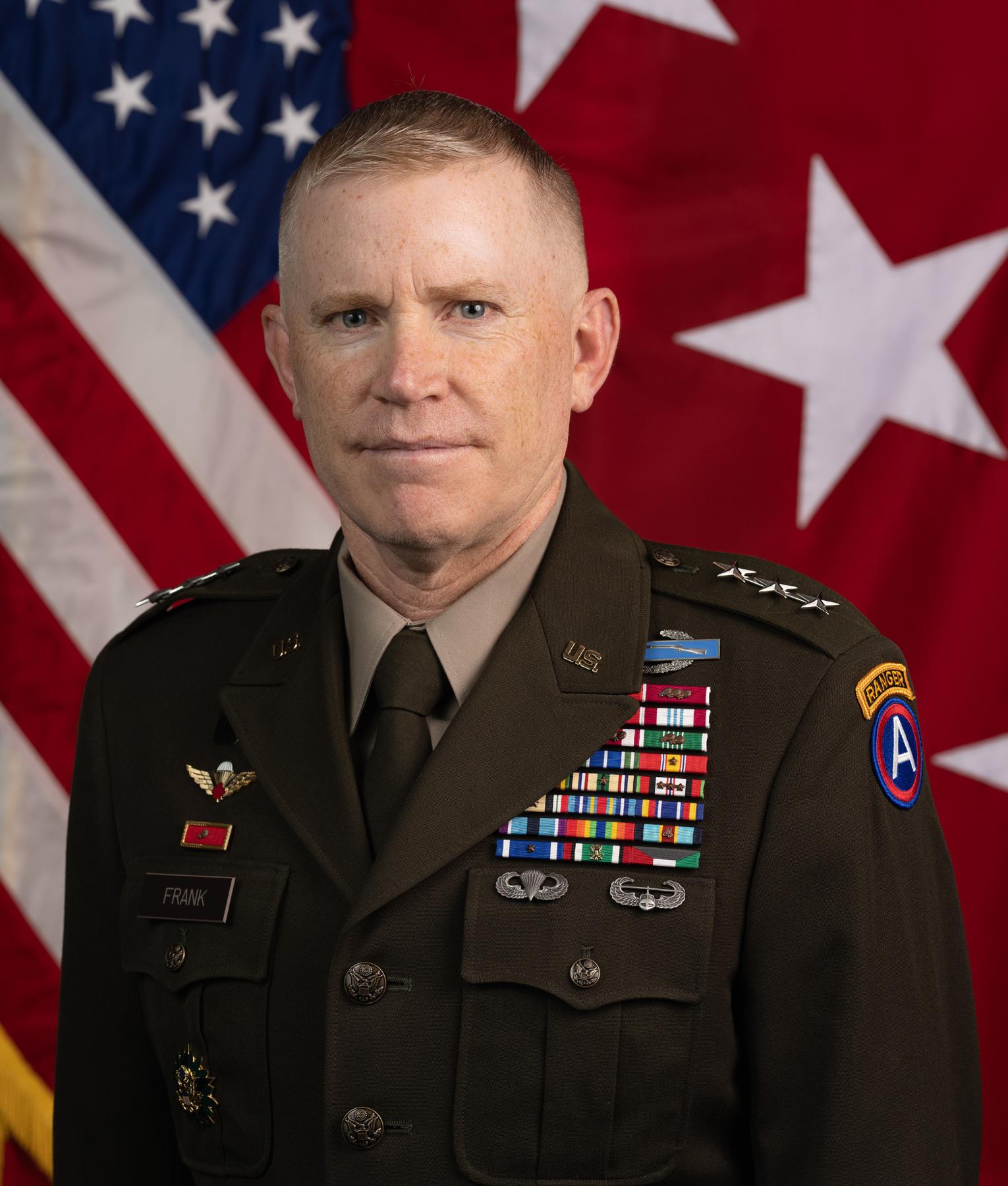 Commanding General, U.S. Army Central
Lieutenant General Frank graduated from St. Bonaventure University and was commissioned as a U.S. Army Infantry Officer. 
Throughout his career, he has served in a variety of command and staff assignments. His previous assignments include: Commanding General of the Joint Readiness Training Center and Fort Polk; Deputy Commanding General and Acting Senior Commander of 1st Infantry Division at Fort Riley, Kansas; Executive Officer to the Commander ISAF Resolute Support; Executive Officer to the Vice Chief of Staff of the Army;
Commander of the 3rd Infantry Brigade Combat Team "Spartans," 10th Mountain Division - deployed in the surge of forces to Kandahar, Afghanistan for Operation Enduring Freedom XII-XIII; 1st Infantry Division G-3; Commander of 1st Battalion, 28th Infantry "Black Lions," 4th IBCT, 1st Infantry Division - deployed to Baghdad as a part of the surge during Operation Iraqi Freedom-V; Aide to the Secretary of the Army; Deputy G-3 and Brigade S-3 in the 101st Airborne Division in support of Operation Iraqi Freedom-I; company commands in the 10th Mountain Division at Fort Drum, New York where he also deployed as a staff officer in support of Operation Uphold Democracy in Haiti, and a tour with the 3rd Infantry Division, Germany, in support of Operation Desert Storm. Prior to assuming command of USARCENT, LTG Frank served as the Chief of Staff, U.S. Central Command, MacDill Air Force Base, Tampa, Florida.
LTG Frank earned a Bachelor of Arts in Finance; a Master's Degree in Public Administration from the Maxwell School at Syracuse University; a Master's Degree in National Security and Strategic Studies from the U.S. Naval War College; and a Master's Degree in Strategic Studies from the U.S. Army War College.
LTG Frank's awards include the Distinguished Service Medal, Legion of Merit, Bronze Star, the Combat Infantry Badge, the Ranger Tab, Air Assault Badge and Parachutist Badge, and the Expert Infantryman Badge.