The city and county of Sumter have a colorful history stretching back more than 300 years. In the 1740s, the first English-speaking settlers arrived to establish roots along the banks of the Wateree River. The "Carolina Backcountry," as it was then known, became a predominantly agricultural area called Craven County, later Claremont County. Present-day Sumter County (then known as Sumter District) was established on January 1, 1800. When the state capital was moved from Charleston in 1789, Stateburg, located on US 76/378, missed being elected the new capital by one vote.
The City of Sumter is the seat of Sumter County and the largest city, and the eighth-largest metropolitan area in the state of South Carolina. Incorporated as Sumterville in 1845, the city has grown and prospered from its early beginnings as a plantation settlement.
From a rich and diverse military history to firsts in education and the Civil Rights Movement, Sumter, South Carolina is no stranger to memorable people and places.
---
General Thomas Sumter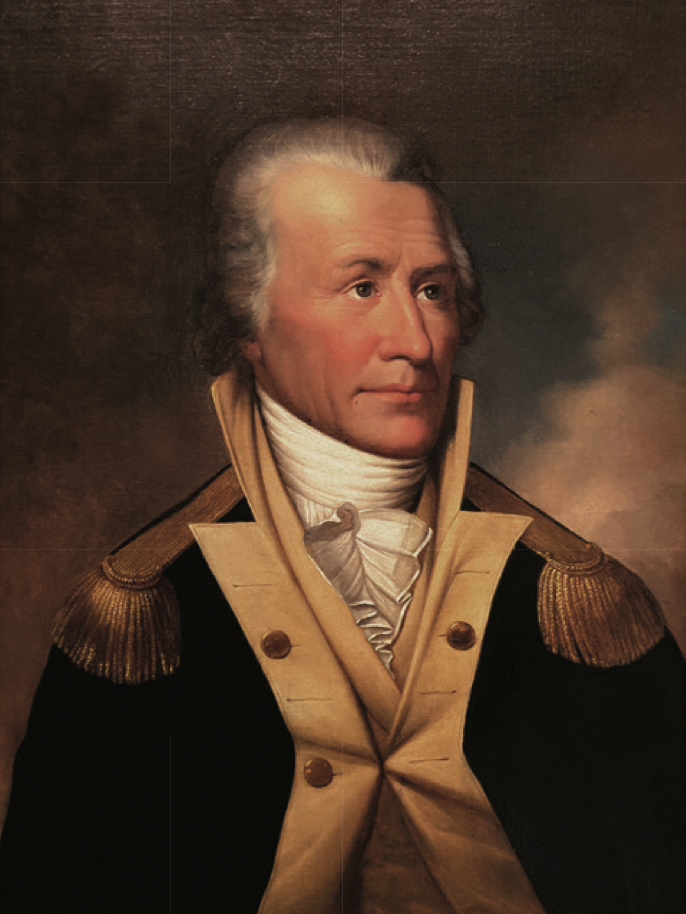 The city and county of Sumter bear the name of General Thomas Sumter, the "Fighting Gamecock" of the American Revolutionary War. His place in U.S. history is secure as a patriot and military genius. General Sumter was one of the models for Mel Gibson's character in the 2000 movie, "The Patriot" (along with Francis Marion and Andrew Pickens, also from South Carolina), and his service to his country continued for the duration of his long life.
Born in Virginia in 1734, Thomas Sumter settled in St. Mark's Parish in 1767. He founded the town of Stateburg, where his financial interests included a sawmill, grist mill, general store and a large plantation. He and his wife, Mary Cantey, had one son, Thomas Jr., born in 1768.
During the Revolution, Sumter fought in numerous skirmishes and battles, including the Battle of Sullivan's Island, the Georgia Campaign, Turnbull's camp, Hanging Rock and Fish Darn Ford. His fierce revolutionary zeal had its origins in an incident involving a Captain Campbell, whose men plundered his home, placed his invalid wife in her wheelchair on the lawn and then set fire to the house. This event so enraged Sumter that he formed and led a band of guerillas in victorious combat against the British, helping to turn the tide in the war for independence.
Following the war, General Sumter continued in the service of the young nation, ultimately as a member of the United States Congress. He retired at age 76 to his beloved "Home House" in the High Hills of the Santee, where he continued to actively manage his business affairs and remained a respected figure in the Stateburg community until his death in 1832 at age 98, the last surviving general of the Revolutionary War. General Sumter is buried in Stateburg, the adoptive hometown to which he gave so much.
---
Take the Museum Crawl Tour
(or go on your own)
Dr. Mary McLeod Bethune Learning Center & Art Gallery - located on N. Main Street in Mayesville, SC. Learn more about Dr. Mary McLeod Bethune, an American educator, stateswoman, philanthropist, humanitarian, and civil rights activist. She also served as an advisor to several U.S. Presidents. The gallery also highlights various stories of African American culture and the legacy left for us today. Hours vary. Admission is free.

Historical Lincoln Center - The historic Lincoln High School building has played a significant role in the African American community in downtown Sumter. We continue to add to the rich history of the African American culture that tells the story of the educational legacy of generations of African Americans. the African American community in Sumter, SC. Hours: by appointment only. Located at 26 Council St, Sumter, SC. (803) 775-0444
Sumter County Museum & Backcountry, in the former Williams-Brice home, built in 1916, complete with a Carolina Backcountry Homestead. Hours are Thursdays - Saturday 10am to 5pm, Closed Holidays. Admission is $5 for Adults (18-64), $2 Students (6-17) and Seniors (65+), and Free for 5 and Under as well as Museum Members. Combination tickets available for visiting the Sumter County Museum and Temple Sinai Jewish History Center. $8 for Adults (18-64), $3 Students (6-17) and Seniors (65+), and Free 5 and Under and Museum Members.

Sumter Firefighter Museum - Hours are 8:30am to 5 PM Monday-Friday. Admission is free.

Sumter Military Museum, celebrates Sumter's impressive military history. Located at 129 S. Harvin Street, Sumter, SC 29150. Hours are Fridays - 9 am - 12 pm and Sundays - 2 pm - 5 pm. Admission is free.
Sumter Opera House - step back in time to experience 125 years of growth and events at this historic opera house, built in 1894, features a 100-foot clock tower and Art Deco interior. Open Monday-Friday 8:30am - 5pm and during special events. Admission is free.
Temple Sinai Jewish Heritage Center, in a Moorish architectural style, recalling the Sephardic heritage of many of its founding families. Hours are Thursdays and Fridays, 1pm to 4pm and Saturdays, 10am to 1pm. Admission is $5 for Adults (18-64), $2 for Students 6-17 and Seniors 65+, and Free 5 and Under. Free for Museum Members. Combo tickets are available to visit both the Sumter County Museum and the Temple Sinai Jewish History Center.
Sumter's historic Hampton Park neighborhood features architectural styles dating from the 1840s along with monuments, historic markers, and gardens.
The Sumter County Cultural Center brings art, music, dance, and more to the site of the former Edmunds High School, built in 1939.
Millford Plantation is one of the finest examples of Greek Revival architecture (open every second Saturday, October through June)
---